About Us
A Passion for New England Post and Beam
Tyler Bergeron, Pioneer Post and Beam's founder, is a native New Englander. By age five, he was already attracted to carpentry, influenced by his family and taught by local craftsmen who practiced the art of traditional post and beam construction. Thanks to this early hands-on training, Tyler developed an appreciation for the construction techniques, and the appearance and proportions of historic buildings which helped him define Pioneer Post and Beam's mission: To be respectful of the trade of post and beam/timber frame building, to use local materials from the closest source possible, and to personally assist clients in achieving their project visions.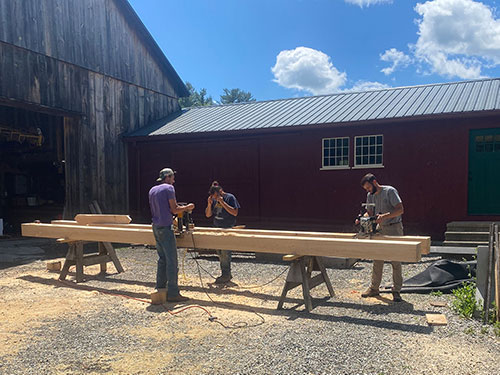 Tyler and his team take great satisfaction in the craft and process of post and beam work as well as your pleasure in the finished product. We take pride in building structures that will serve your needs today, and will last for your grandchildren to use too. That's why our clients become friends, and ask us back to bring new ideas into reality and create buildings to last a lifetime, or three.
Let's discuss your project today. Call Tyler at (413) 427-8034 Or send us an email.

Out of all the craftsmen we've had in our backyard, your company was by far the most professional and easiest to work with. Thank you for a great job.